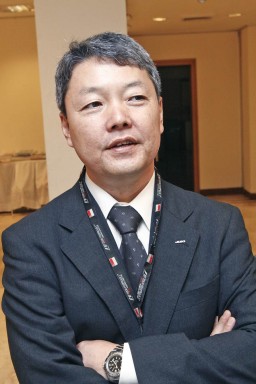 Juki has been one of the first few companies to herald a green wave in the sewing machine manufacturing industry. While manufacturing its products, Juki carefully considers the environment by eliminating the use of hazardous substances, improving transportation efficiencies, by reducing consumption of power and other consumables and enhancing easy separation and segregation of products for better disposal and recycling. Recently, AEPC and Juki got together and organized a seminar for educating the industry on greener machines, Team StitchWorld interviewed Toshiyuki Yamanaka, Director, Juki India to understand Juki's green initiative and its popular machine in the basic category.
SW: How would Juki's eco-friendly machines be helpful to the Indian Industry?
Toshiyuki Yamanaka: Time has come for the Indian manufacturers to not only be compliant but be a step ahead in environmental friendliness for their own benefit. Indian customer can approach newer buyer if they are sure that their manufacturing processer are environment-friendly and cost-efficient and at the same time are of good quality. Eco-friendly machines are definitely an appeal point for the customer.
Our eco-friendly range of machines come in three lubrication options – Minute lubrication type, Semi dry head and Dry head type. A conventional machine consumes power even when it is turned off and thus there is no power saving. But our eco-friendly machines which have servo motors, disconnects power when  needle is not moving. Due to dry head, oil stains are greatly reduced or eliminated, thereby saving time and energy and reducing the consumption of oil stain removing chemicals containing Dichlorofluoroethane, (listed as an ozone layer harming chemical).
SW: Domestic market in India is a  growing market? How does Juki see it as  an opportunity?
Toshiyuki Yamanaka: In the unorganized domestic market, customers look for economical machines rather than the technology. We closely work with domestic brands like Cantabil, Blackberry and Koutons. We are not totally ignorant of the needs of unorganized sector and we do have economical range of single needle lockstitch machines and other machines which previously customers could only get by importing, that too in bulk but now these machines can be bought locally. We offer our advanced technology not merely because it reduces damage to garment but also reduces the downtime and help in improving productivity.
SW: Which all products are you showcasing?
Toshiyuki Yamanaka: We have many machines on offer and DDL-9000B is a direct drive, high speed SNLS machine with automatic thread trimmers is very popular among the manufacturers. These machines save power by their remarkable energy saving techniques. Compact sized servo motor with direct drive results in transmission of motor power directly to the sewing machine thereby achieving improved power consumption savings, quicker response, increased accuracy of the stop position and stronger material penetration force by needle. The energy saving model control box SC-920, allows this machine to reduce power by 20% during standby mode. Moreover, noise generation has been greatly reduced in this series thus helping reduce operator fatigue by eliminating harsh noises.