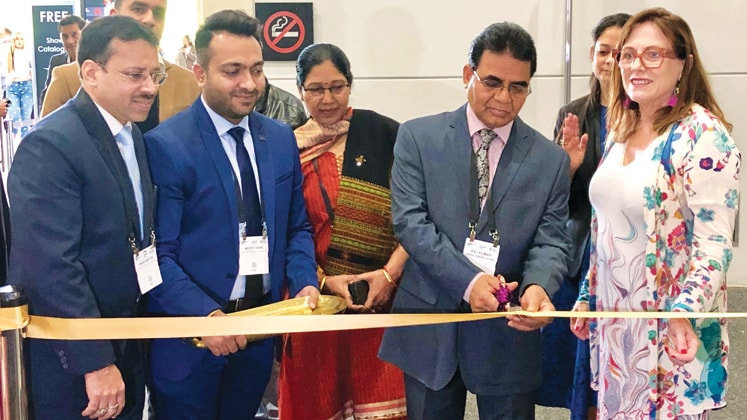 Organised by International Exhibition & Conference Group, International Sourcing Expo, Australia recently took place from 12th to 14th November at Melbourne Convention & Exhibition Centre. Co-located with Footwear & Leather Show Australia and China Clothing Textiles Accessories Expo, the premier show is for Australia and New Zealand markets. As far as India is concerned, the event seems to be highly important for Indian apparel exporters, as more than 100 companies from the country participated in the same. Apparel Resources interacted with some of them, and while they had mixed opinions or experiences to share, all of them unanimously agreed that most of the visitors were interested in small-size orders only.
Some of the exhibitors were quite happy with the show and are expecting good business, as they met significant buyers in terms of numbers as well as business opportunities. One of them was Aastha Kapoor Khanna, Creative Director of Affordable Exports, Delhi who stated, "This proved to be one of the best shows I have ever participated in, as I met good buyers; the event was well-organised and FIEO (one of the partners of the show) supported as well. The seminars in the event were also informative and full of learning." Aastha is expecting business from 3 to 4 buyers. She also shared that despite the buyers mentioning that their order sizes won't be huge, she is not perturbed because they are offering better prices.
The company has been focusing on the Australian market for last 3-4 years and has also participated in this event earlier, but could not get a major breakthrough. Now considering the positive results from the show this year, the company is keen to participate in the next edition.
Other Indian exporters who have been regularly participating in the show are of the view that over the years, the number of exhibitors is increasing while buyers' footfall (especially of big buyers) is reducing. Aseem Singla, Director, Fashion Images Overseas, Jaipur is one such exporter who shared, "I hardly saw or met any big buyer or well-known top brand at the show. Most of the visitors were asking for 50 to 100 pieces. Many start-ups also visited the show and their order size were also the same. Overall, I feel that as of now like others, the Australian market is slow."
As usual, some of the exporters were not satisfied with the show; one of them was Vivek Agarwal of KTC Export, Kolkata who manufactures a variety of bags and allied products.
Looking at a broad perspective, participants in this particular show who also took part in many other sourcing events are of the view that Indian exporters have a mindset to follow one particular thing or trend rather than exploring something new or different. So, most of the established shows are witnessing a growing number of Indian participants but they are getting less new buyers and business. Exploring unexplored markets, different avenues, and new shows are the need of the hour.
Hemin Parmar, CEO, Pal Exports, Mumbai is catering to the Australian market for more than 15 years and has been getting good business. However, he shared that the upcoming year is going to be more challenging as far as Australia is concerned, "For us, the show was okay and we got two new buyers this time, but seeing the feedback that we are getting from our Australian buyers and our study, the next season will be more difficult. Volume is already continuously falling from buyers of this region." To overcome this challenge, Hemin is focusing on offering more styles and products to anyhow sustain in the market.
"We will further improve our efficiencies and realign our factory, as there is no other way to survive in this challenging scenario," he added.
Seminars at the event were multifarious in nature and covered a wide range of topics with experts sharing their valuable insights on burning issues like China-US trade dispute and its impact on the textile and apparel supply chain. Similarly, fashion and sustainability were also well covered through a discussion on macro trends, design directions for Spring/Summer '20/21 and whether transparency in the fashion industry or not.
Indian participants observed that many Australian buyers are showinginterest in handloom fabric-based garments as for polyester or rayon-based apparels, they prefer to source from Indonesia and other such hubs.
Prints are more in demand as comparedto embroidery or any other value addition.
Even a small buyer looking for 50 pieces was seen asking for
India's export to Australia (figures in US $ million)   
| | | | | |
| --- | --- | --- | --- | --- |
| HS Code | Product Category | 2017-18 | 2018-19 | Variation (%) |
| 61 | Articles of apparel and clothing accessories, knitted or crocheted | 73.31 | 81.84 | 11.64 |
| 62 | Articles of apparel and clothing accessories, not knitted or crocheted | 109.08 | 109.76 | 0.63 |
| 63 | Other made-up textile articles; sets; worn clothing and worn textile articles; rags | 130 | 133.44 | 0.34 |
Source: Ministry of Commerce, India
700 exhibitors (manufacturers and agents of textile, apparel and footwear)
4000+ visitors
16,500 sm. space used by the show