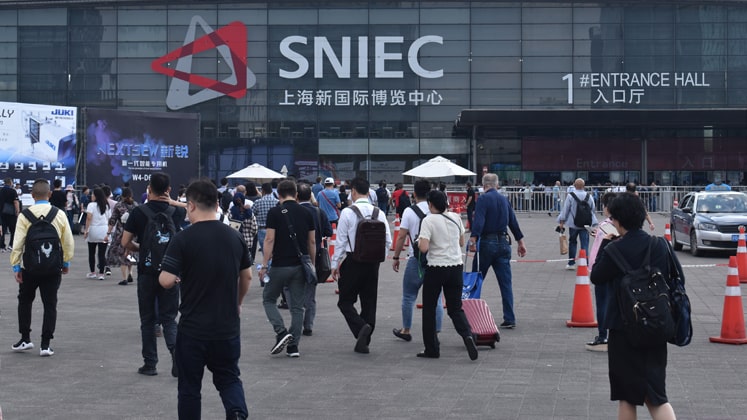 The use of technology in apparel manufacturing is significantly increasing worldwide and it was reiterated at the recently concluded CISMA 2019. The four-day-long event beckoned the world with wide range of 'Intelligent Manufacturing' technologies under the theme 'Smart Sewing Factory – Technologies and Solutions', grabbing the attention of apparel manufacturing giants located in different parts of Asia.
CISMA sprawled over an area of 1,15,000 square metres of Shanghai New Int'l Expo Center (SNIEC), Shanghai, China with nearly 1,250 exhibitors from 25 countries displaying and demonstrating solutions seen by 1,00,000 visitors from across the world.
Team Apparel Resources visited the event and put forth the following observations:
Automation was evident in CISMA
According to China Sewing Machinery Association (CSMA), the annual output of Chinese sewing machines already accounts for more than 80 per cent of the total output in the world. However, the majority of the sewing brands focused on just basic SNLS machines in over three-decade period until 2014. However, 'intelligentization' has pushed the Chinese machine brands to offer more diversified products. The R&D capacity, production capacity and market competitiveness of the enterprises have  greatly improved over the last few years and with a push from the Government of China, sewing technology brands are moving beyond basic lockstitch machine manufacturing to highly automated sewing machines and workstations. Not only that, even the leading brands from around the world have technical manufacturing or financial tie-ups with Chinese sewing machine manufacturers and this is why the sewing technology today closely follows the development trend of global sewing machinery.
Jack Holding Group with its European juggernauts such as Vibemac, MAICA, Bruce and Bullmer and recently acquired Chinese Typical, holding a great position in sewing technology market, showcased some breakthrough innovations in sewing machine. Jack's renowned A series SNLS machines and newer models in C series overlock machine caught the attention of the visitors. Its newest SNLS model A6F includes needle and feed dog synchronised feeding with double knife movement and ending condense stitch design. Markedly, A6F model has 300 mm operational length of the bed that makes stitching even easier for operators. This machine comes equipped with auto bobbin winder, hand wheel with cooling fan and auto presser foot lifter which make the machine an advanced one.
Jack also showcased its automatic pattern sewer with robotic arm that can handle 3 sewing machines at one time, eliminating the need for a skilled operator. The robotic arm has been developed by Jack in collaboration with Huawei which is a Chinese leading electronics and technology provider.
Besides, CISMA proved to be a launching pad for a number of technologies which one might not connect with Industry 4.0 principles but those are certainly relevant for automation of processes inside a garment manufacturing factory. US-based Eastman Machine Company launched 'Eagle 100' machine which is high speed CNC low-ply automated cutting system and is suitable for small batch garment production as well as for bags, shoes, furniture and automotive industries.  "The fact is we want to keep our focus mainly on cutting business which is our expertise. This is why we always come up with new automatic machine in most of the events where we participate," shared Wade Stevenson, President, Eastman Machine Company.
When technology in pre-production is considered, COSMA Technology should certainly be talked about. The Singapore-based company marked its sturdy presence in CISMA with its smart cutting series which is said to be a solution to cut small, medium and bulk orders. Its smart cutting line system includes auto loaders, automatic spreading machines, automatic labelling, conveyors and automatic cutters which, according to Chong, Managing Director of COSMA Technology, will be the future for cutting room in order to reduce manpower, time, fabric consumption and increase in productivity. "Cost reduction and high quality, productivity are ensured by its 'smart moving system' combined with the intelligent knife system," averred Chong.
One company that has emerged massively in recent years is China-based Yi Neng Technology which has been engaged in the research and development of CNC equipment for more than a decade now. Working inevitable to achieve '3 highs' – high precision, high thickness and high quality, Yi Neng Tech exhibited its S-type cutting machine which is developed after 2 years of R&D. "This technology is an answer to all cutting room woes specially in downjacket product category," asserted Chen Xuejun, Chairman, Yi Neng Tech.
Italian pioneer in jeans automation, Vibemac came up with a plethora of machines both 'Made in Italy' and 'Made in China'. Vibemac's first 'Made in China' machine S2261HP – feed off the arm – grabbed the attention of the visitors. The model is already renowned all across the world but to bring the overall cost of the machine down, it was manufactured in China while all control boxes and standard parts were still imported from Italy. "Reduced cost is one big benefit we have got after getting merged with Jack," claimed Alberto Guerreschi, CEO, Vibemac.
It is always believed that pre-production processes in garment unit are best suitable for automation followed by production processes. However, Greece-based Thermotron has changed this perception with its STP-1000 automatic folding machine. STP-1000 comes equipped with state-of-the-art pneumatic, electrical and electronic systems aiming at even higher quality of its construction and ergonomics. It requires just one operator and it is designed to perfectly fold not just T-shirts but also various types and sizes of clothes, within the permissible limits. "The maximum production capacity is 5,500 garments per 8 hours," informed Adrian Leow, General Manager, Focus Garment Tech Pte Ltd. – the official dealer of Thermotron.
On-demand manufacturing model was vastly talked about
The fact cannot be denied that orders from apparel buyers are shrinking with time and the buyers are asking for more variations. The reduced quantity per style pushed by the changing consumer preferences have made way for a new manufacturing model named 'on-demand'. The production model majorly came from the Western part of the world but it has made its existence in Asian countries as well. On-demand production was a focal point of Industry 4.0 demonstrations at CISMA.
Lectra, under the banner 'Lectra 4.0: Digitisation and Connecting Your Value Chain', showcased – Fashion On Demand, Furniture On Demand and VectorAutomotive iP9 fabric-cutting solution for automotive seating and interiors; all launched for the first time in Asia. According to Lectra, in all industries using textiles, the intelligent factory requires a high degree of flexibility, maximum efficiency and optimal planning processes for a variety of production types, from mass production to on-demand production.
These requirements are paramount to the future success of companies competing for business in Asian markets. With nearly 60 per cent of the world's millennials living in Asia, sustained demand for personalised, rapidly delivered products continues to drive the trend toward mass customisation. Product personalisation is rapidly becoming a top-of-mind concern for fashion and furniture industry decision-makers, as well as for the optimisation of small-batch runs. Following the trend, Fashion On Demand by Lectra and Furniture On Demand by Lectra automate the complete process from order processing to fabric cutting. Suited to the respective needs of each industry, the two solutions comprise Lectra's digital cutting platform and single-ply fabric cutting solution Virga®. They allow users to manage their workflows seamlessly for both small series and customised order production. This enables manufacturers to readily switch from mass production to small-batch runs, as well as optimise the product personalisation process in the cutting room.
"Fashion On Demand by Lectra is cutting edge solution for Made to Order (MTO), Made to Measure (MTM), and Made to Customize (MTC)," averred Daniel Harari, Chairman and CEO, Lectra.
Gerber Technology also participated at the event to propel the fashion industry forward, empowering its global customer base with transformative end-to-end solutions. The company showcased CAD, 3D, PLM and Industry 4.0 enabled smart machines. At CISMA, visitors came across a number of demonstrations and virtual reality experiences at Gerber booth. YuniquePLM, Accumark 12.2 and AccuNest were among the software offerings that Gerber demonstrated during the event.
As far as hardware offerings are concerned, GERBERcutter Z1 with ContourVision was focal point of the discussions. The cutter is next-generation automated cutting solution for single-ply materials for fashion, automotive and transportation interiors and is said to be an on-point solution for on-demand manufacturing. "We are educating the industry about the significance of data analytics and software development before cutting process and that is actually the need of the hour," asserted Karsten Newbury, Chief Strategy and Digital Officer, Gerber Technology.
IoT is the trend and key for building 'Smart Factories'
The technologies like 'Internet of Things' (IoT) have become mature and CISMA witnessed sewing machinery industry taking advantage of this trend wherein the companies tried every means to provide more advanced solutions and more all-round services for the downstream industry. Jack Holding Group has officially launched its IoT software called IPMS (Intelligent Production Management System). "If I talk about IoT, I must say that it is one of the revolutionary concepts garment industry has ever witnessed. It needs a software to connect an entire line of machines and through this, we not only control the machines but also the intelligent data," shared Ruan Jixiang, Chairman, Jack Holding Group.
An emerging Chinese sewing technology provider Hikari also showed 'Intelligent Cloud Technology' for its machines. The cloud system can be integrated with the Hikari machines which will help in real-time data collection and monitoring for better decision making. "It can monitor various parameters such as usage of thread, number of stitches, needle running time etc., and can compile and remotely transfer the data to the cloud," maintained Xianbo Xu, Director, Hikari. 
Japan-based Juki showcased its JaNets (Juki Advanced Network System) that connects the complete shopfloor for transparent monitoring by collecting machine data. In order to connect the machines on a shopfloor through JaNets, Juki provides two options of connection: either using RFID on the existing Juki machines which connects to the terminal or using NFC (Near Field Communication).
Brother and Duerkopp Adler also came up with their respective IoT systems called Brother IoT and QONDAC, which shows the industry's inclination towards adopting this 4.0 technology.
Renowned enterprises including SG Group; Jack Holding Group; Vibemac; MAICA; Zoje; Hikari; Maqi; Precious; Duerkopp Adler; Pfaff; Juki; Brother; Pegasus; Yamato; Lectra; Eastman; Gerber Technology; Bullmer; COSMA Technology; Yi Neng Tech; FK Group; Morgan Tecnica and Shima Seiki displayed their cutting edge technology solutions. The range of technologies expanded to clothing, shoes and hats, luggages, household products, automobiles, aerospace and aviation.