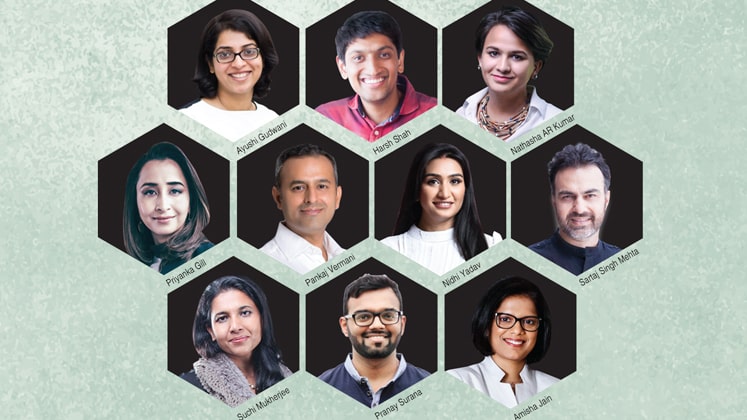 A term every Indian is being fed on across platforms is 'start-up'. The booming sector is one that has remained undeterred even at times when huge industries are crumbling. India's coveted start-up club of unicorns- firms valued at US $ 1 billion or more,are growing faster than ever. 2019 alone has produced over half a dozen unicorns so far, 8 to be precise.
This however is not an attestation to the problems start-ups have faced this year. But an area they did not have to lose sleep over was funding. Despite the arduous journey of navigating through an economic slowdown and stiff competition, homegrown ventures managed to garner US $ 7.67 billion in the nine-months ended September 30 of 2019. A remarkable feat, as these start-ups are attracting more and more international investors to splurge upon a gamut of innovations, taking each industry by storm.
Holding the position of the third largest hub of start-ups in the world, the Indian Government has taken upon itself to support every enterprising entrepreneur in his endeavour. Innovation and start-ups have become somewhat of a focal point for which 7 Central Ministries have been instrumental in launching policies and schemes that address their financial woes and provide procedural support. They have incentivised the setting up of incubators, conducting workshops and upgrading technology and physical infrastructure for institutions, further facilitating the funding process.
21 State Governments in India are pursuing start-up policies. States like Karnataka, Kerala, Maharashtra and Telangana are reforming policies along with setting up state-financed and managed incubators and entrepreneurship cells. To encourage entrepreneurs, certain rewards for innovation are being given out and the Government is working towards building a better network by linking them to the industry. Consequently, these states have been reaping the benefits of increased start-up activity and attention from private investment.
The 1,200 start-ups that came up last year have pushed the number to a total of 7,200 in India, creating huge job opportunities for the country and more than 400 start-ups have expanded globally. Talking about the US $ 115 billion Indian fashion market, the industry is spawning numerous start-ups that are jostling for a share to enter with their distinct style statements. While most start-ups have received accolades as well as general acceptance from the public, some that we touted to be the top start-ups in India in our special issue of Apparel Sourcing Week have not met the same fate as their counterparts. Most of them have held solid ground but once popular names likes Buttercups, an online lingerie retailer and StalkBuyLove, women's fashion apparel portal have fallen prey to tough market conditions and lack of funding. Other names on the list have sustained themselves and are working on building their brand value in the Indian economy.
Part of this list contains names in the apparel start-up ecosystem that have become synonymous with their respective categories and continue indomitable to capture more and more consumers, be it through cleverly catering to the consumer, ingenious marketing strategies or through the sheer value of product offerings.
Zivame
Founded in 2011 by Richa Kar when the idea of a portal dedicated to lingerie had never been thought of, the pioneering firm has maintained its strong grasp on the market and continues to serve women throughout the country. However, success does not come overnight and dubious market conditions require nimble strategising and sticking to the core values of one's brand. "Zivame has consistently identified changing consumer trends and quickly adapted its business model to stay relevant in the category. Experience made us realise the lack of availability of right product for the Indian body profile, so we metamorphosed into a brand that provided the right fit and comfort," chimes in Amisha Jain, CEO, Zivame.
The idea of selling lingerie online seems to have become a hit but was not always met with enthusiasm at the beginning. From building a management and leadership that believed in the long-term idea of getting customers and investors onboard at the right time, Zivame has had its fair share of struggles. Inspite of impediments, funding from big venture capitalists has infused the start-up with the much needed capital at the right time. The latest round of funding raised Rs.60 crore in Series C funding extension led by Zodius Technology Fund and other HNIs in 2019.
In 2018, Zivame made a revenue of Rs.86.6 crore, up from Rs.53 crore the previous year, an impressive growth. "Zivame brand continues to grow exponentially and we are poised to hit 75%+ growth in FY '20. As of September 2019, Zivame brand has hit a Rs.300+ crore annual runrate," asserts Amisha.
Flyrobe
Started in 2015, by three entrepreneurs who were captivated by the concept of asset utilisation and rental economy, the idea was to extend this to fashion. Having collaborated with stalwart brands and designers like Outhouse, Masaba Gupta, Ritu Kumar and Shehla Khan, Flyrobe presents a collection of curated ethnicwear for men and women by creating an on-demand online wardrobe, which people can access whenever they want without the burden of owning it.
The rental economy in India has been catching on but it is imperative to drive one's mission forward, to which Pranay Surana, Co-founder of Flyrobe, says, "I would attribute the success to our team who have been working across all parameters to change the consumer behaviour. Our focus over the years has been to push the idea that this is a smarter way to consume fashion. Therefore, it has become something people know us for, how we're leading the change in the rental category."
The company has so far gained traction with customers and investors alike with giants such as Sequoia Capital, IDG Ventures and Grey Ventures leading the three rounds of funding that secured US $ 1.7 million, US $ 5.3 million, US $ 4 million respectively.
Talking about the plan to invest this funding, Pranay maintains, "Going forward, the plan is to invest in expanding retail footprint that will include a lot of franchises and our own stores in different cities. There's a little investment going into technology to allow for virtual trials because this is a category where people need to see how it'll look on them."
Although the Government has been working on building policies both for start-ups and the e-commerce sector, it seems to lack the right approach. "There's an increasing awareness in the Government that there are a lot of blind spots in the policies. E-commerce has existed for the past 15 years but e-commerce policies only came up two years ago. They are realising that things are moving fast and they need to catch up and give clarity which is what entrepreneurs appreciate," avers Pranay.
Flyrobe has had a phenomenal growth rate of almost 300 per cent in the past three years and its net revenue for FY '19 was Rs.15 crore, which means the company rented out merchandise worth Rs.100 crore last year alone.
AKS Clothing
Aks Clothing was launched in 2014 with a seed capital of Rs.3.5 lakh and has catapulted into one of the most trusted brands for women's ethnicwear in India. The likes of Myntra have pitched in to give impetus to the brand through its brand accelerator programme after noticing its success in 2017.
Speaking on the success of her brand that she has meticulously established, Founder Nidhi Yadav says, "Capsule collections, quick replenishment models and price affordability for end customers are the top three differentiators that give us an extra edge over the competitors. We create products as per the needs and aspirations of our target audience. That's why we are able to carve a distinct place in the market."
The brand has managed to maintain an incredible growth rate of Rs.100 crore with topline growth registering at 150-200 per cent. Even in its first year of functioning, AKS had garnered a revenue of Rs.1.6 crore which has now grown to Rs.75 crore for the first three quarters of FY '19.
Nidhi has endured her fair share of challenges at the beginning to help the brand grow to the stature it has earned for itself in the market today. "During the initial months of AKS, I, along with my husband and infant daughter, would travel from Gurugram to Jaipur every weekend to source materials. Haggling there with the manufacturers on quantity and cost was a difficult task. We wanted to get 25 pieces of each design. But they wouldn't take any orders for less than 200 pieces. We started with only Rs.3.5 lakh and setting an optimum budget for each and everything was really nerve-racking," she adds.
POPxo
One of the country's most prolific content creators, the brand prides itself in being the largest online community of women with over 42 million monthly active users and is available in over six languages. They recently diversified into the lucrative fashion and skincare category along with setting up their first offline retail outlet in New Delhi.
Started by Priyanka Gill in 2017, the company has grown by leaps and bounds with 200 per cent overall growth year-on-year in terms of users, reach and engagement and a turnover of US $ 1.98 million for the last fiscal, a remarkable accomplishment in such a short span of time.
Having scaled the business to new heights, there are new challenges cropping up everyday that need attention. POPxo Shop is their latest venture in the world of e-commerce which requires a different approach as compared to media. "Our biggest challenge right now is to convert our current content-engaging user base into buyers and expand the e-commerce leg of the business. POPxo Shop is already a successful endeavour, but we will be scaling it up to make it even bigger in terms of growth and revenue," informs Priyanka.
In 2018, the company raised US $ 2 million in Series A funding. The investment round was led by IDG Ventures India and Kalaari Capital. In November 2014, the year of its launch, it raised Rs.3 crore from Rajan Anandan, CaratLane's Mithun Sancheti (via Chennai Angels) and others.
FableStreet
One of the pioneers in premium women's workwear category, FableStreet raised seed capital in 2017 from angel investors Kanwaljit Singh (MD, Fireside Ventures), Harmeet Bajaj (Founding Member, NIFT), Pameela P (Senior Director, Unilever), Fusiontech Ventures and others.
The company garnered a revenue of Rs.2-3 crore in FY '18, according to Business Today, within two years of starting out. "In terms of sale, we are growing 3x every year which is a significantly good rate with the brand FableStreet gaining significant traction among the right consumers. As per unit product and core operations, we are profitable. Going forward, we intend to add more variety and additional categories to our product portfolio including shoes, and finally enter the offline retail," comments Founder and CEO Ayushi Gudwani.
They also collaborated with known designer Nandita Basu to launch a limited edition capsule workwear and are working on expanding their retail footprint. "We currently engage with over a million women online every month and have served close to 25,000 customers since our launch. We now plan on venturing into producing accessories and other categories of products that professional women need. We are also inclined towards entering the offline retail market through no-inventory concept stores in metros along with focusing on expansion in India and international markets," Ayushi asserts.
Ayushi is aware of the challenges of working in the online retail space. For one, the difference between online and offline retail space has blurred with omnichannel retailing and many brands are entering the arena and creating lack of faith among consumers. It is difficult for them to trust a brand and make them believe in what it stands for. Whether a brand is retailing online or offline, their primary mode of advertisement is Facebook and a large chunk of revenue is dedicated to marketing now that online advertising has become as expensive as TV and billboard advertising.
Clovia
Clovia, from the house of Delhi-based Purple Panda Fashions Pvt. Ltd., is a lingerie and sleepwear brand that designs, manufactures and sells premium fashion lingerie, innerwear, nightwear and shapewear.
Despite being put up against tough competitors like Zivame and Pretty Secrets in the country, it has successfully captured the offline retail set-up with 12 outlets by the end of 2018 and plans to open a total of 75 stores across the country by the end of 2021.
"By the end of this financial year (FY '19), we will double the number of retail outlets. We aim to continue with the same pace for store expansion for the next couple of years as well. In the next two years, we should have around 60-75 stores in the country. At present, around 20 per cent of our revenues come from the offline channel which could go as high as 35 per cent in the next two years,"announces Pankaj Vermani, Co-founder and Chief Executive Officer of Clovia.
The company has expanded operations to international markets in 2018 and its technological prowess has drawn venture capitalists to invest in the company which is currently showing the potential to be the foremost lingerie retailer in India. Clovia has innovated to depend on its proprietary customer data analytics for foreseeing sales trends and production planning.
Among its sales touch points are various MBOs and partner websites such as Myntra, Jabong etc. 60 per cent of the company's revenue comes from Tier-2 and Tier-3 cities. Clovia has raised US $ 10 million in a Series B funding round led by AT Capital in 2019. Existing investors like Ivy Cap Ventures and some private investors also joined the round.
Fynd
Fynd is a Mumbai-based omnichannel platform for fashion and lifestyle which lets offline retailers sell online. It caught the eye of Reliance Industries which is set to acquire 87.6 per cent stake in the e-commerce platform for Rs.295 crore, according to a Reliance Industries' filings in the Bombay Stock Exchange. According to the terms of the deal, RIL has the option to further invest up to Rs.100 crore in Shopsense Retail Technologies, the parent company of Fynd, by December 2021.
Commenting on the recent development, Harsh Shah, Co–founder of Fynd says, "Recently, Reliance Industrial Investments and Holdings invested in Fynd. Today, Fynd powers over 8,500 stores across the country and has a real-time inventory of 8,00,000 products, and lets merchants serve customers better by acquiring new products. As it begins a new chapter with Reliance, Fynd will be looking to use these guiding principles to build on the success of its O2O model and align it with Reliance's own ambitions in the e-commerce sector."
In March of 2018, tech giant Google led a Series C funding round in Fynd, which included existing investors Kae Capital, IIFL, Singularity Ventures, GrowX, Tracxn Labs, Venture Catalyst, Patni family office and Hong Kong-based Axis Capital among other angel investors. While in 2017 alone, the start-up raised about US $ 3.4 million spread across three rounds.
The rapid climb of the venture and widespread acceptance does not come without hard work and diligence of the team. "We, at Fynd, have always believed in setting the company up for growth and as Founders, our primary goal is to build the team and set up the systems. When I look back at the 6 years of our journey, I always value the help we got in setting up the team and the company far more than any other tactical advice," maintains Harsh.
Vajor
The fashion and lifestyle brand, which started operations in 2014, has been doing phenomenally well and has added various categories to its repertoire of product offerings. With a diverse range of products, it now offers not only clothing for men and women but also shoes, accessories and the latest- home décor.
Nathasha AR Kumar, Founder & CEO, Vajor, avers, "We added decor as a category within 2 years of launch and ventured into the offline space too within just 4 years. These new verticals will also help Vajor propagate itself as a lifestyle brand and not just as a fashion brand, which has always been the goal. Hence, new verticals simply solidify the brand as a one-stop-shop." The new verticals are expected to contribute approximately 40 to 50 per cent of the revenue by the end of FY '20.
Apart from product diversification, the brand also plans to expand its footprint both online and offline. Currently about 85 per cent of its revenue comes from e-tailing. In future, they may introduce several stores spanning the country in metros and Tier-1 cities.
The brand, which champions the cause of sustainability strongly, is streamlining its working to grow more sustainable in its processes going ahead. "We have managed to eliminate polyester entirely from the products and use only natural fibres. We are also working on reducing carbon footprint by graduating to measures like paperless billing, recycling and reusing for visual merchandising, banning plastic, switching to wooden and shell buttons in place of plastic ones and reducing plastic in packaging," she concludes.
Turms
Founded in December 2016, Turms is an internet-first intelligent apparel company. It offers apparel that are stain repellent, odour resistant, cooling and sweat wicking and do not require to be washed as often, decreasing the use of water and detergent.
The company uses its patented nanotechnology and plans to expand its product categories, hire tech talent, launch experience centres in major cities of India, and strengthen investment in research and development.
"Globally, most large brands are built around design, price, celebrities and culture. Our mission is to offer functional, affordable and low-maintenance intelligent apparel to India's working youth. Turms is committed to pioneering that revolution and habit formation in Indian consumers," says Rameswar Misra, CEO of Turms, in a press release.
The company's latest rounds of funding include Rs.2 crore angel funding after hitting a Rs.24 crore revenue run rate, which saw investors like Myntra Co-founder Raveen Sastry, ex-Google Executive Sree Unnikrishnan, FarEye Founder Gautam Kumar, PremjiInvest Partner Rahul Garg & Atul Gupta, and ex-Flipkart Executive Sanjay Ramakrishnan. Last year, Turms raised Rs.6.3 crore from a clutch of angels including Freshworks Founder Girish Mathrubootham, former Reliance Retail Lifestyle President Bijou Kurien, Pepperfry founder Ambareesh Murty and former Flipkart top executive Mekin Maheshwari, along with angels from LetsVenture & AngelList India.
LimeRoad
At a time when most retailers, be it offline or online are reporting stunted growth or shutting shops, in India and internationally, LimeRoad is a breath of fresh air. This year, the fashion e-tailer reported a 78.5 per cent increase in revenue from Rs 89.73 crore in FY '17 to Rs 160.2 crore in FY '18. At the same time, the company managed to control the growth in expenses to 20 per cent. The amount stood at Rs 219.67 crore in FY '18 rising from Rs 183 crore in FY '17.
The news of rising revenues is accompanied by the brand planning to set up 2,000-3,000 offline retail stores in the coming years. The company has so far raised US $ 50 million in three rounds of funding and is anchored by Tiger Global Management, Lightspeed Venture Partners and Matrix Partners India.
The fashion e-tailer has made a string of appointments this year in order to take the company forward in its positive trajectory for growth. It hired Pankaj Jain as its Chief Financial Officer, a post he had held for 9 years at the the ibibo group. The second hire is Ragini Singh as the Vice President for Community & Creative. She has 20+ years of experience in GoodEarth, Travel & Leisure, Better Homes and Gardens, Casa Viva and Cosmopolitan. While the last name is that of Adesh Kumar (ex-Snapdeal) as Director Engineering.
Speaking on the appointments, Suchi Mukherjee, Founder & CEO, LimeRoad, said in a statement by the company, "We are absolutely delighted to have both Ragini and Adesh join us in the next phase of our journey as we drive towards the next 10-20 times growth. They both have what we treasure most here at LimeRoad – a true founder's mentality, drive and a continuous desire to raise the bar."