The apparel industry is one of the most dynamic and competitive industries in the world that requires 'logistics excellence' for the industry to stay ahead of the curve. The efficient management of the entire supply chain, from raw material procurement to finished product delivery, can greatly impact not just a company's success but the effectiveness of the entire industry.
However, the garment industry has unique challenges that make logistics management even more critical. The industry operates on tight production schedules, with many players involved in the production process and back-end integration. Additionally, fashion trends are constantly changing, which means companies must be able to quickly adapt to market demands. Effective logistics management can help overcome these challenges. India is one of the top garment and textile manufacturing destinations, both domestically and in exports, and it poses challenges that are very fragmented in nature. The good part is that the industry stakeholders and the Government have recently shown some great efforts in improving the logistics system and its management. Still, the apparel industry feels that a lot more is required, especially a seamless system.
The Government's initiatives
The Government of India has taken a transformative approach enabling integrated planning and synchronised implementation of multi-modal and last-mile connectivity across the country. Be it the thrust on improving infrastructure like launching National Logistics Policy, thrust on highways construction, waterways, projects like Bharatmala, Sagarmala, The PM Gati Shakti National Master Plan (NMP) to mention a few. All such initiatives have the vision to reduce logistics costs for both domestic and EXIM cargo with optimised infrastructure investment. The aim is to bring the logistics cost to single-digit as soon as possible which is currently around 13-14 percent and end transport-related challenges, saving time and money of the manufacturers.
At the same time, it is imperative to mention that the last few years have been disruptive for the logistics sector as tech-based start-ups have done tremendous work on safe and quick Last-mile Delivery; Vendor Managed Inventory; Returns Management; On-demand Fulfilment; Direct to Retail; Inventory Placement and Optimisation; End-to-End Visibility and Control; Multi-Channel etc. Most of the apparel manufacturers also agree that they have gained several advantages due to various developments especially with regard to time saving but still there is a lot of scope to improve the overall logistics services.
Few of the Government's steps are mainly beneficial for exports as Government claims that the total capacity of Indian ports has increased significantly and the average turnaround time of container vessels has come down from 44 hours to 26 hours. Unified Logistics Interface Platform (ULIP) will bring all the digital services related to the transportation sector into a single portal, freeing the exporters from a host of long and cumbersome processes. For promoting exports, 40 air cargo terminals have been constructed besides initiatives like faceless assessment in customs, provisions for e-way bills and FASTag etc.
Gain for apparel manufacturers
Some of the apparel exporters, especially of NCR, are of the opinion that till date they have not seen any major change as far as sending goods by road from NCR to Mumbai is concerned. There has been little improvement in time-saving by around 4-5 hours, depending on the vehicle and driver but they are highly hopeful that once the Delhi-Mumbai Expressway will complete by the end of December 2023, it will be a real game changer.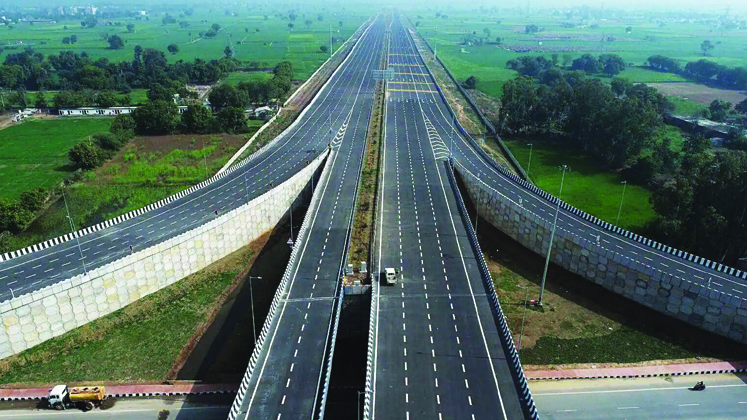 This highway will make it possible to reach from Delhi to Mumbai in only 12 hours (currently it is around 36 hours). The 1386-kilometre Delhi-Mumbai Highway project, which is the longest motorway in India, is being made at a cost of Rs. 1,00,000 crore. Apparel exporters strongly say that this is a well-taken initiative of the Government
"In China, from across the country, it normally takes one day to make the goods reach the port and once the Delhi- Mumbai Express Highway starts completely, it will be a blessing in disguise for exporters like us," said Vivek Saxena, Director Moissanite Apparels, Noida who is working with some leading European buyers.
Apart from this particular highway, similar infrastructure development across India has benefited apparel manufacturers and they are content with this. Factories in North India are now able to save at least 18-24 hours when they send goods on long routes like to Bengaluru or Chennai.
Mohali-based Active Clothing, having a manufacturing unit in a village of Punjab called Badali Ala Singh (district Fatehgarh Sahib), is one such company and Rajesh Mehra, MD of the company is of the view that this one-day saving is also a big advantage for them as he gets one-day ease in working capital as payment time starts from reaching the goods at clients' warehouse.
As far as Ahmedabad, the leading domestic hub for apparel manufacturing is concerned, till a few years back for manufacturers there, it was like impossible to send goods from Ahmedabad to Pune and nearby areas for same-day delivery but the situation has changed now due to improved road infrastructure. They are now swiftly able to send the goods on the same route easily.
Sachin Shah, Avadat Apparels, Ahmedabad substantiates the same by saying that now transporters don't refuse same-day delivery for Pune and nearby areas and it has benefited them a lot. Avadat Apparels is a leading jeans manufacturer of Ahmedabad and has a good presence in the domestic market.
Various exporters are content as things are currently streamlined at customs and clearances taking normally one day or even less, unlike earlier 2-3 days. PMS Uppal, MD, Pee Empro Exports, Faridabad opines that due to overall digitisation, things at customs are now more transparent and clarity is there while earlier there was dependency on customs staff or agents.
Improvement required on various fronts
For apparel exporters, improvement is required at various levels and there is a need for seamless systems and processes like container stuffing, movement time. Container loading should also be digitised and things need to be done more professionally and in a less time-consuming way. Few rules within India differ from city to city or from state to state.
Issue 1: Overall costing is too high
Regarding costing, there is still not much of an advantage at the ground level especially, increase in fuel price is one such issue. Every year, tool tax is also increasing by around 10 per cent. Customs clearance at the ports has also increased. The same is in the case of imports, right from delivery orders to nearly on all the fronts, exporters have to pay charges which are illogical and they have no choice.
Animesh Saxena, MD, Neetee Clothing, Gurgaon also accepts that infrastructure has indeed started improving and suggests, "There should be a proper regulatory mechanism to have control on shipping companies, especially in case of their pricing, be it for terminal handling and allied factors."
Issue 2: Port-to-port connectivity is a concern
Apparel exporters are also concerned about improvement in port-to-port connectivity as it will be a good advantage for them.
PMS Uppal said, "Still mother vessels don't come to India while it is required. If this happens, it will be good support for exporters." Most of the feeder vessels upload Indian apparel exporters' goods from Sri Lanka, Singapore etc.
Issue 3: Transit time of Train is high
For companies situated in Ludhiana and nearby areas, it takes around more than two weeks from the factory to ship as from Delhi to Mumbai, the transit time by train is still high. For machinery import, to reach from Mumbai to Delhi, the container train takes almost 15 days as after Ahmedabad, there is no facility for double-decker train and goods get unloaded and reloaded at Ahmedabad. Issues like connectivity, unloading and loading are also there in case of LCL cargo (Less than Container-Load) by train.
Issue 4: State/ city-specific rules are complicated
Few of the Jaipur-based exporters, who are shipping regularly by air, are dependent on Delhi airport, and for the same, they send their goods by road to Delhi. In most of the cases, 'No entry' (during a certain time frame, when goods vehicles cannot ply on roads) rule in Delhi wastes almost one day.
Aseem Singla, Director, Fashion Image Overseas, Jaipur is one such exporter who agrees with the aforementioned issue as his few Japanese buyers sometimes ask for air shipment, especially for small or medium size orders. He suggested, "For small orders, we can't book a full dedicated truck, so in such cases, things depend on transporters too. In metro cities, goods vehicles carrying goods for export can be given exemption from 'no entry rule' as even one day also matters in air shipment."
Flywing Cargo geared up for double growth
There are thousands of goods being transported across India and few of them are from the textile and apparel companies. Having 125 trucks and 45 offices across India, Ahmedabad-based Flywing Cargo is working with more than 60 big companies in apparel, textile and e-commerce domain. Sunil Beniwal, Director-Sales of the company believes, "Due to e-way bill, transporters can't misguide the goods senders. It ensures tracking of goods and also helps the transporter to work more systematically."
Sunil claims that to ensure timely and safe delivery, every truck has two drivers and this creates comfort and safety for drivers also. The company is expecting to have 100 offices in near future as it is expanding across India.
To achieve logistics excellence, a garment company needs to focus on several key areas:
Inventory management: Garment companies must be able to manage their inventory effectively. They should know how much stock they have in hand, when to order more and when to phase out certain products. By managing inventory effectively, garment companies can avoid stockouts and minimise excess inventory.
Transportation management: Transportation is a critical component of the garment industry's logistics. Companies need to ensure that their products are transported quickly and efficiently to meet tight production schedules. This involves selecting the right transportation mode, negotiating with carriers and tracking shipments to ensure timely delivery.
Supply chain visibility: Garment companies need to have complete visibility of their supply chain. They should be able to track raw materials, work-in-progress and finished products at every stage of production. This level of visibility can help companies identify and address bottlenecks in the production process and prevent delays.
Collaboration: Collaboration between different players in the supply chain is essential for logistics excellence. Garment companies should work closely with their suppliers, manufacturers and logistics providers to ensure that everyone is on the same page. This can help avoid misunderstandings and delays.