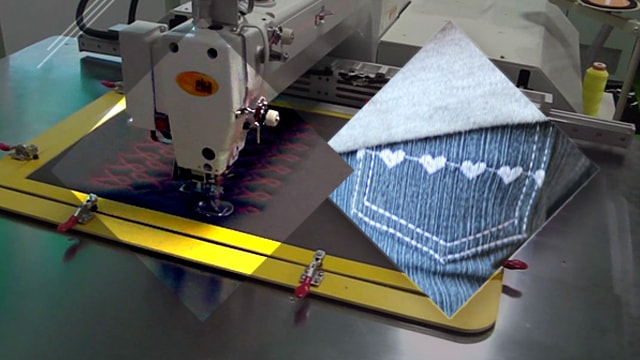 Pattern tacking is the term used to describe the sewing of small stitch patterns, which are generally used for reinforcing other garments. It can be done in various shapes such as square, rectangular, triangular, bar, semicircular, and so on. Apart from the functional use (i.e. reinforcement), pattern tacking is also used for aesthetic purposes like semicircular tack in piped pocket end, cross tack in Velcro attachments for cargo trousers, among others.
This article by Parul Singh a BF Tech (Apparel Production) NIFT and Professor Prabir Jana, Chairperson, Dept. of Fashion Technology, NIFT analyse the operation of dart sewing and the technology involved at the basic and highest levels, takes you through the technology options for various needs and for various scales of operation, with the presumption that the wise investment yields the best value for money.
Basic Level of Technology (Manual Operations)
The sewing patterns are generally limited to a specific number of patches in the range from 10 to 100 stitches per pattern and cover only a small area of workpiece. This operation is performed by moving the workpiece under the needle and this motion is achieved automatically by means of a work clamp, which is mounted for movement along two axes relative to the needle. Work clamp movement is controlled by a style or a feed cam, which is operatively linked to the clamp. Thread cutting is controlled by a second cam connected to the same shaft. In this manner, a limited amount of automatic operation is achieved.
The variety of patterns is limited by cam design and the gear ratio between the needle drive shaft and the camshaft, since each pattern must be completed within one rotation of the cam. The gear ratio is the relationship between the numbers of teeth on the two gears that are meshed. This necessitates replacement of the style cam for each change in pattern and in addition, if the number of stitches in the pattern changes, a new gear train must be installed. This effort may take anywhere from 2 to 8 hours by a skilled mechanic and results in a significant loss of production.
The fact is that mechanical cam follower driven lockstitch pattern tacker is no longer available from majority of sewing machine suppliers. Old machine models like PFAFF 3339-5/01 series and similar ones are still being used by the industry. The main disadvantage of these machines is their limited flexibility. The CAM needs to be replaced every time the shape of tacking requires a change. It results in 3 to 4 hours of machine downtime for each changeover.
Intermediate Level of Technology
In order to eliminate expensive changes resulting in a loss of production, there was a need to invent an automatic pattern tacker, which would be free of the restrictions of the style cam.
Machinery and Equipment Required for Intermediate level

Computer-controlled, High-speed Shape-tacking Machine

Makes and Models
Features and Specification of Machinery and Equipment
JUKI LK 1900, Brother KE 430D
Sewing speed: 2,700-3,000 spm
Stitch length: 10mm
Sewing area: 30mm (l) X 40mm (w)
Work Clamp lift: 17 mm to 25 mm
Max. number of stitches: 20,000 (10,000/pattern)
Active needle thread tension mechanism
Number of patterns: up to 94 patterns with added ROM
Pattern enlargement or reduction utility
Memory medium: EEP ROM, EP ROM
In order to convert the standard pattern tacker sewing machine to numerical control, the style and knife cams are removed from their shaft. The knife cam is replaced by a new cam, which is operatively connected to its shaft through an electronically operated clutch. The stepping motors are controlled by numerical control systems, which can be adopted to generate signals to cause movement of the workpiece clamp.
The computer controlled bartacking machine has seen radical changes in its evolution to be an easier-to-use machine. Straight bartacking, square bartacking, cross tacking, crossed stitch tacking programs have been preset in the sewing machine and can be selected according to specification.
Advanced Level of Technology
There has been remarkable development in the pattern tacking machines from the basic level. As compared with the conventional models, the basic performance has been dramatically improved. For example instantaneous acceleration (deceleration) at the beginning (end) of sewing and high speed thread trimming have contributed to 24% to 35% shorter total cycle time as compared with that of the conventional machines.
Machinery and equipment required for Advanced level

Computer-controlled Cycle Machine with Input Function

Makes and Models
Features and Specification of Machinery and Equipment
Juki AMS-221E Series
Max sewing area: 250 X 160 mm
Stitch length: 0.112-17mm
Max no. of stitches: Up to 30,000
Sunstar SPS/A(B)-1306/1507/1310 Series
Max sewing speed: 3,000 spm
Number of Standard patterns: 200
Lift of the work clamp : 20 mm max
Programmer can be connected to create sewing data readily
Durkopp Adler 910-210 Series
Memory medium: P ROM
Arrangement of move, copy, erase and symmetric functions
"Electronic pattern tacking machines have replaced the mechanical cam-follower controlled machines; eliminating machine downtime and opening an array of stitch options and flexibility under touch of a button"
In addition, sewing machine functions and patterns can be input through the operation panel. With large storage capacity, the machine supports embroidery patterns with large numbers of stitches. Functions that are frequently used in programming works, such as normal sewing (linear sewing and spline sewing), point sewing, jumping, and thread trimming can be allocated to specific keys mounted on the operation panel. The use of these keys reduces the time required for data entry.
The advanced level can sew free pattern, part sewing and reinforcement sewing with equal élan; attaching labels, emblems, attaching Velcro, shape tacking pockets and special Bartacking and large area cycle sewing (specially car air bags), are all possible in a single machine.
ROI for Advanced Level of Technology

Operations like cross tack in Velcro attach in cargo trousers can be achieved even by using single needle lockstitch machine.
We will now compare the Return on Investment for an advanced level pattern taking machine vis-à-vis using simple lockstitch machine
Cross tacking
CM price of the garment (Rs)
50
Sewing cost 40%0f Rs 50
20
SAM value of cross tack for single cargo
1
Total SAM
31
CM price per garment
0.65
Cross tack using single needle lockstitch
Cross tack using advanced level pattern tacking machine
Sam value for single cross tack (min)
0.25
0.05
SAM value for 4 cross tacks in a cargo
1.00
0.20
Production per day (shift of 8 hours)
480
2,400
Working days /month
26
26
No. of months /year
12
12
Production per annum
149,760
748,800
CM price per pocket
0.65
0.65
Cost output/annum
96,619
483,097
Production Target( pcs/day)
2,400
2,400
No. of machine required
5
1
Cost of one machine (Rs)
30,000
600,000
Cost of total machine (Rs),T
150,000
600,000
Annual Depreciation(%)
0.15
0.15
Depreciated value of m/c after one year (Z)
130,435
521,739
Cost of one operator pm
3,000
3,500
Total operators salary (Y)
180,000
42,000
CM price from total m/c (X)
483,097
483,097
ROI for the first year,(X-Y)/Z
232.37%
84.54%
It is clear from the above calculations that an advance level machine pays back within one and a quarter year. Even though lockstitch machines give better return (within half year), it is wise to invest in advanced level of technology because of the consistency achieved in quality.
Tangilble and Intangible Benefits of Return on Investment (ROI)
Every owner of a garment factory will need to purchase better and better machinery to stay competitive in today's hi-tech era. Before he invests in any capital equipment, he would obviously like a detailed assessment as to when his capital outlay would be fully amortised. Return on Investment analysis is one of the several approaches he can use to arrive at an informed decision. The term means that decision makers evaluate the investment by comparing the magnitude and timing of expected returns with the cost of investment. The same rationale can also be used for implementing programmes like marketing, recruiting and training, among others.
Return On Investment (ROI) is frequently defined as the 'return' (incremental gain) from an action divided by the cost of that action. It needs to be noted that the cost of every machine depreciates with time, till it reaches 'salvage' or a defined strike-off value. The formula for calculating the depreciated value of any machine is: Depreciated Value (DV) of the investment = Net Book Value/ [1+Depreciation Rate/100]n, where 'n' represents the number of fiscal years since purchase, irrespective of whether the machine is used or not.
As can be seen, in the ROI calculation, we have considered only two parameters in the numerator, viz. direct benefits or output and the cost of labour. But there are numerous other important parameters that affect the ROI calculation of any investment, e.g. tax, to give one example. If more parameters are taken into account, ROI will be correspondingly more realistic, accurate and close to actual. Here, a few parameters are being considered, which should be kept in mind while calculating ROI for any investment.
ROI Cannot Be Assessed In Isolation
So far, we have seen how ROI on equipment for one specific operation works. However, a single operation, in isolation, does not deliver the complete output. For example, belt loop attachment (StitchWorld, Sep 2007) is only one operation in sewing jeans. While calculating ROI for technology upgradation in making jeans, we should consider total investment (all sewing equipment inclusive) vis-à-vis improvement in the expected output.
One point that may cross a reader's mind is that upgradation in technology happens only for a few specific operations, while the rest of the equipment and machinery remains unchanged. So, why should one calculate ROI for all equipment? One example will explain the point better. Say, in a shirt-making factory with a basic level of technology, there is a production target of 500 shirts per 8 hr shift. After upgrading technology of a few operations like collar making, pocket attachment, front placket making, yoke attachment, sleeve placket making etc. and balancing the production of the rest of the operations (just by adding the number of machines), the factory may increase the output to 4,000 shirts per 8 hr shift. In this case, if we calculate an isolated ROI for operations where investment is done on upgraded technology, ROI may not always be positive. Instead, we should calculate ROI for total investment vis-à-vis total output increase. In reality, one negative ROI (when net output from a single machine is less than the depreciated value of that machine) for one operation may be compensated by higher positive ROI for another operation. Hence, it may be worthwhile to calculate the ROI for the total investment.
ROI for any year
Going by the definition, Return on Investment is the quantity of money realised or unrealised, by operating a machine less all sums of money spent in operating that machine, with the remainder divided by the depreciated value of that machine and expressed as a percentage.
The 'Standard ROI', insofar as the garmenting business is concerned, is somewhat different, in that it is calculated by the following formula:
ROI= [(CM Price from the machine) – (total operator salary in that year)] / Depreciated Value(DV) of that machine, expressed as a percentage.
Let us take an example:
What is the ROI for a new machine that costs Rs 5 lakh, has a rate of depreciation of 15%, produces goods worth Rs 3.2 lakh pa and requires two operators whose salaries are Rs 3,500 each pm?
In year one: DV = 5,00,000/[1+(15/100)], i.e. 5,00,000/1.15
= Rs 4,34,783
ROI = [3,20,000-(2×3,500×12)] / 5,00,000
= [2,36,000/4,34,783]x 100=54.3%
Similarly in DV = 3,28,758/[1.15]³
year three: = Rs 2,16,764
ROI = [2,36,000/2,16,764] x 100 =109%
Thus, the machine has paid back the investment done on it in just under 3 years.
ROI with increased capacity utilisation

Year 1
Year 2
Year 3
Year 4
Year 5
Return
50
70
100
100
100
Costs
80
40
30
30
30
ROI
(50-80)/80
(120-120)/120
(220-150)/150
(320-180)/180
(420-210)/210
ROI %
-38%
NIL
47%
78%
100%
Other Tangible Benefits
Apart from direct benefits like increase in output and lower cost of labour, there are numerous other important factors like cost of training, fuel, utilities, space, energy consumed, etc. which affect ROI significantly. Let's take an example of ROI comparison between the process of vacuum table ironing and tunnel finisher. To produce 17,600 pieces in two shifts (i.e. a total of 16 hours for the two shifts) we may require 50 vacuum tables (i.e. 50 operators) in the first option or one tunnel finisher plus 10 touch up irons (i.e. 11 operators) in the second option. Let's assume that the electricity consumption for the first option is 2400 kWh while it is 590.4 kWh only for the second option. Let's also assume that the steam consumption for the first option is 2400 kg while for the second option it is a whopping 6880 kg. So, by investing in advanced technology like a tunnel finisher, we can save on electricity, but we will spend much more on steam! All these factors need to be considered while calculating ROI.
Intangible Benefits
There are several intangible benefits that accrue, apart from numerous tangible benefits like long term ergonomic impact, safer working environment, resulting in less employee turnover, environment friendliness, etc. Quantifying such benefits into an ROI calculation is difficult, as these benefits accrue over a period of time, and hence, are difficult to quantify.
Risk Factors
There are several other factors associated with any investment on machinery and equipment. For example, while attaching pockets on shirt fronts, an automated workstation is approximately 12 times faster than when attaching them with a single needle lockstitch machine. This works out to approximately 12 single needle lockstitch machines (and as many operators) being replaced by one workstation. Such an investment makes the operation highly vulnerable in case of a machine breakdown or malfunction. In the case of lower level technology, if one machine breaks down, production is affected by 1/12th of the total output, whereas, if the workstation breaks down, the output becomes zero. The organisation needs to take extra precautions, say, by ensuring timely preventive maintenance of the workstation and by storing critical spare parts and consumables to reduce the machine downtime. Also, the cost of repairs of such advanced machines is high, since an engineer invariably has to fly down from abroad to attend to the problem. These incidental costs also need to be apportioned while calculating ROI. Apart from the probability of machine breakdown, other factors like opportunity costs also need to be considered for any investment.
ROI With Increased Capacity Utilisation
In many cases, any new investment does not utilise 100% capacity in the first year. Capacity utilisation increases over the years. Thus, we often speak of a '3-year ROI' or a '5-year ROI'. Most investments in business bring many costs and returns over a long time period and the 'ROI' will depend heavily on the time period being considered. Placed alongside, is the projected cost and benefit cash flow that could represent an investment in training for customer service staff in a 5-year time span (figures in Rs 1,000).
The last row is the 'Standard ROI' (Incremental gains over investment costs) at the end of each year. For a two-year period, this investment has 'zero' ROI. For a 5-year time span, the ROI for the same investment is 100%. Note that the ROI is the progressive sum of all the earlier Returns and Costs.