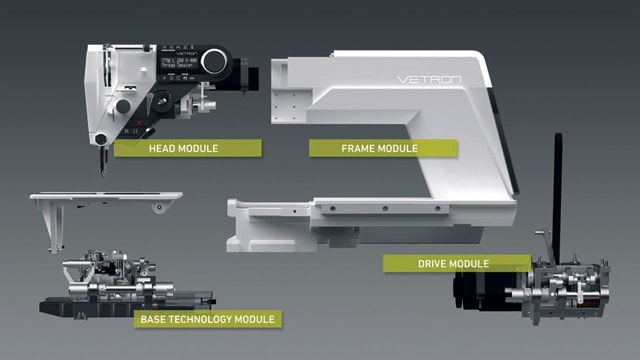 With the outburst of Industry 4.0, the apparel industry is witnessing the outbreak of innovations in sewing process. These innovations are transitioning the status of apparel manufacturers from being manually relied to tech and digitally focused. Apart from helping in shortening time to market, these trends have taken competition to the next level, which surely will become a survival necessity in the coming future. Texprocess and CISMA are the two events that note the new technological developments for apparel industry, disrupting the use of current methods. Team StitchWorld brings to its readers the popular ten technology trends in sewing that will change the meaning of apparel manufacturing soon.
Vision sewing
Decorative stitching requires an accurate fabric feeding to the machine, resulting in precise stitching. It is the operator and his high skill set which manipulate the fabric direction to sew curve and other shapes of patches to be sewed. In the wake of scarcity of high skill set, vision sewing system emerges as an easier way out to obtain flawless decorative stitches. The system can be integrated with conventional single needle lockstitch, chainstitch machines or electronically programmable pattern sewing machines.
The vision sewing system integrated with an industrial camera look (capture image), processes the captured image at the split of a second and directs mechanical actions by transferring it to the electronic programmable sewing machine. The whole process requires no high skill sets, instead much lesser time. The key benefits of vision system include a consistent sewing speed for multiple patch sewing, automatic sewing of patterns, improved/less handling of the garment or fabric and no operator sewing skills.
Brother Vision Sewing System pioneered the system and more players are likely to follow soon.
Pedal less sewing
Foot pedals in sewing machine is one area where sewing machine operators spend most of their time to get control while sewing complex stitches and the critical parts. The industrial sewing machines are slowly coming up with the concept of pedal less sewing machine, rendering electronic control of stitches.
Xi'an Typical recently won Texprocess Innovation Award 2017 for its 'Vetron Trace', the first sensor-based technology that offers full control over industrial sewing machines without pedals. The natural working movements of the users are mapped as if by an invisible hand and the data collected used to begin the new step.
Jack is another sewing machine provider that is providing the option of pedal less sewing. In its C4 overlock machine, it offers three operation modes – full intelligent mode, semi-intelligent mode and computerized mode. In full intelligent mode, machine can work automatically without foot.
Automatic bobbin changer
A single needle lockstitch operating at high efficiency comes to a sudden halt when the bobbin thread is consumed fully and requires replacement with a new bobbin. Usually carried out manually, the process consumes additional time rendering a plunge in productivity.
For uninterrupted sewing, automatic bobbin changers are becoming the need of the hour. Kinoshita has successfully commercialized the use of automatic bobbin changers which stocks eight bobbins in the exchange plate and can be integrated with SNLS machines.
Embroidery machines, on one hand, are finding greater utility of automatic bobbin changers while the industrial sewing machines are still new to this. Tajima's Smart Bobbin Changer (SBC) can take only 6 seconds to replace the bobbins for all heads, reducing the downtime of the machine due to bobbin replacement. Another embroidery machine player, Aura Technologies also employs pneumatic bobbin changer in its embroidery machines. Recently Jack has announced auto bobbin changer in its single needle lockstitch model.
Real-time monitoring in sewing machines
The apparel industry is now moving fiercely towards Industry 4.0 and digitalization is one outcome of the same. With discrete gonotrophic locations of apparel units, it becomes almost difficult to control and monitor the status of production. Real-time monitoring is what apparel industry is harnessing the most out of shopfloor.
The smart sewing machines are networked over a server which can be viewed over a smartphone or a tablet, from anywhere in the world. The intelligent machine network solution allows to view the status of a whole production line or even a single machine in real time. This real-time status not only helps in the detection of probable obstructions during production but also mentions the scope of productivity improvement.
Juki is toying with Intelligent Sewing System (ISS) for quite some time. Digital Process Analysis (DPA) Software from Pegasus also does real time monitoring of sewing line, Brother's 7300A shows similar capability and very recently Duerkopp Adler entered the fray with Qondac Networks that digitizes the sewing production and gives the user access to remotely control it.
Convertibility in sewing machine
Convertibility of bed type, feed type and stitch type is a long pending requirement in sewing machine. Juki and Brother's double needle lockstitch machine used to offer switching between needle feed to drop feed for long time. Bed types were often custom converted from raised to flat type in case of overlock for long seams. However, now some brands offer submerged bed to raised bed in case of eyelet buttonhole machine.
Bar tack to button sewing convertibility is another recent offering by sewing brands. Simply by changing the presser foot, switching the mode of the built-in software, bar tack machine can work as a button sewing machine without changing the parts inside the machine. Both Typical and Siruba (BT290) offer such model.
Modular sewing machines
The sewing machines have now moved away from their rigid structure where a sewing machine was designed to perform a particular function, leaving no room for changing of parts to perform a different function. Besides, investment in a new machine is not a feasible option.
The innovation in this section brings forth the development of modular sewing machines where the components can be changed and fitted with a new component to adjust to future needs. Such facility no longer requires buying of a new machine, thus increasing the flexibility of the existing sewing machine. The repairing would also require replacing the module with a new one, thus avoiding down times and possible bottlenecks in production.
Vetron by Xi'an Typical is the first sewing machine which has grouped all the components of the sewing machine into 'technology modules' that can be exchanged at any time. The company has made possible to transform a flatbed machine into a longarm machine and vice versa.
Sewing machine settings through mobile phone
The settings on sewing machine have to be adjusted from time to time according to the style of the garment the operator is working upon. These settings should be uniform for each and every sewing machine, but manually changing the settings over each sewing machine is a time-consuming task.
The newest trend is to adjust the settings on sewing machine with the help of an Android tablet in contactless mode or over Wi-Fi or even a mobile phone. The settings, once changed on sewing machine, can then be copied on the complete production line with just one tap on the device.
Such a feature enables saving of time and a quick check for uniform settings as well as confirmation of conditions of sewing machines in a sewing line, thereby facilitating set-up changes. Brother S-7300A and Juki DDL-9000C offer such features. Pfaff showed same android tablet monitoring in CISMA 2013.
Digital feed system in sewing machines
Improvement of productivity on a shopfloor is as important as timely delivery of goods to the buyers. Even the slightest of productivity increase notes a significant improvement in efficiency. With the increasing labour costs, the advanced sewing machines are the need of the hour to save the time wasted in non value-added activities. A number of sewing machine manufacturers available aver to improve productivity with the help of their digital feed sewing machines.
Integrating digital feed in a sewing machine means separating the movement of feed dog from the main shaft which is controlled by a servo motor. A stepper motor is introduced into the machine that independently drives the feed dog. The use of a separate stepper motor allows for precise reverse feeding, design stitching and simultaneous condensed and backtack on the same seam.
Some of them are Brother's S-7300A, Juki DDL-9000C, TYPICAL GC6930A and Duma DM1969M.
USB port in sewing machine
Each time a new style is injected into a production line, sewing machine settings have to be adjusted on every machine. It increases the changeover time, thus slowing the production.
The sewing machines are now equipped with USB port, so as to facilitate the copying of settings such as stitch length and sewing speed to other sewing machines. Apart from this, easy copying of patterns and upgradation of software can also be done through the USB drive.
USB ports are becoming popular amongst sewing operators as these also act as handy mobile charging points or even some USB driven personal desk fan during summer.
Voice guided sewing machines
Each time some sewing machine breaks down, the operator informs the line supervisor and the mechanic is then informed to rectify the default. Most of the times, operators are unaware of the reasons that make a machine to stop working.
There are sewing machines available in the market that come with a voice guide feature where each button on the operation panel has a voice-over that informs the user about technical glitches like machine breakdown, oil leakage/level, etc.
Jack offers A5 semi-dry computerized lockstitch machine and C4 fully automatic overlock machine integrated with this voice-over feature. It also informs the operator of any error and also explains how the error can be resolved.