The pandemic directly impacted trade shows and fairs which the industry solely relied on for sourcing raw materials for their upcoming collections and seasons.
In the absence of physical interactions, a lot was lost as buyers and merchandisers were not able to touch and feel materials – a key aspect in the decision making process. With the Omicron variant bringing physical trade shows to yet another halt, we bring to you the Spring/Summer 2022 Sourcing Guide in sync with WGSN's global manufacturer network.
This report puts the limelight on value-driven bestsellers, new developments in the field, and key trends that have been analysed alongside the latest sustainable material developments.
For the upcoming season, good quality, classic, responsibly sourced leather will support the long-lasting value of core and perennial items, with craft textures adding investment appeal.
We see soft shimmer metallics, recoloured snakeskin looks and silky satins lending tactile indulgence to garments, whilst sustainability dials up in chrome and metal-free and veg-tan leather.
In the case of materials, there is a shift towards recycled polyesters and nylons, low-impact dyes and finishes and certified organic undyed natural canvas that signal in a 'less is more' mindset.
Read on to discover:
Crafted classics
High quality leathers that emit a traditional, timeless feel to create reworked classics that appeal to the less-is-more customer mindset, feature on top of the list as they update products into worthy investment items that will last through the years.
Surface and finish: Turn your eyes towards heritage natural grains and crafted artisan stamping, stitching and tooling to provide longevity.
Trace leather to ensure responsible farming and animal welfare. Lower-impact chrome-and metal-free tanning is gaining interest alongside vegetable tanning, which gives leather a mellow patina enhanced by natural waxes, such as Deepmello's attractive veg-tan Rhubarb Leather quality.
Colour:Opt for warm, traditional tones such as orange tan, rich browns and black for wardrobe classics.
Application: Product categories such as women's and men's footwear, bags, belts, soft accessories, small leather goods, apparel, are of key interest.
Softly sueded
As the Home Hub continues to be a place of comfort and solace for consumers, short-pile suede and matte nubuck offer gentle restorative comfort.
Surface and finish: Softly napped and sueded leather will bring soft tactility to footwear and apparel, especially for footwear, retro sneakers and supple apparelwear. Key highlights include Motta Pelli's new waterproof suede and Gruppo Mastrotto's super-soft suede Fondant.
Colour: Use mindful pastel tones for a calming look, or opt for colour pops for fashion-led updates.
Application: Women's and men's footwear, sneakers, apparel are key areas to consider for the trend.
Shimmer metallics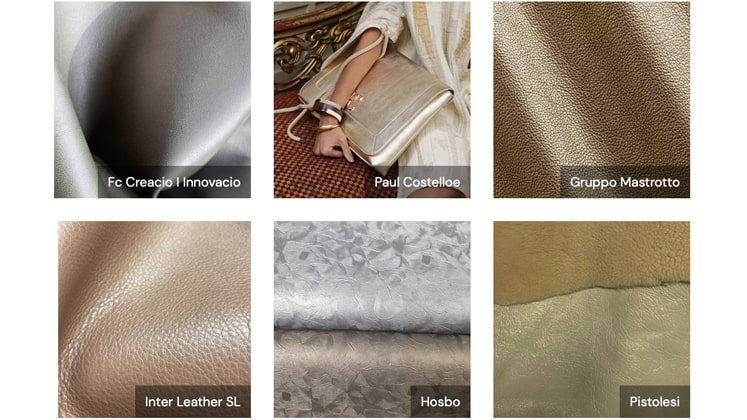 Subtle metallics and pearlescent sheen will bring everyday luxury to footwear, accessories and apparel categories.
Surface and finish: Subtle embossing and burnished finishes provide a soft luminosity, allowing materials to fit into any occasion. Opt for responsibly sourced cow leather in reflecting or pearlised powder finishes.
Look at Fc Creacio Innovacio's REACH-compliant metallic finishes or Piñatex's mineral Metallic range in crinkled and smooth options.
Colour: Brash, reflective metallics make way for a softer shimmer for S/S '22, with champagne golds, copper and silver.
Application: Women's footwear, sneakers, bags, belts, soft accessories, small leather goods, apparelwear.
Smooth and supple
Soft, smooth, full-grain leather is updated through optimistic colour pops to lend optimism and hope.
Surface and finish: Source into smooth nappa leather with a supple finish.
The vibrant semi-aniline leather with a slightly shiny effect and soft touch at Gruppo Mastrotto and Pittards' soft water-resistant leather are key here. Recycled leather has a place too, with a soft quality using 60 per cent recycled leather scraps from Recycled Leather. For low-impact leather-free options, source solvent-free or recycled PET-based materials.
Colour: Soft primary brights update classic nappa leathers, working well with neutrals for sophisticated contrast.
Application: Women's and men's apparel, footwear, bags, belts, soft accessories, small leather goods are key categories to pay attention to.